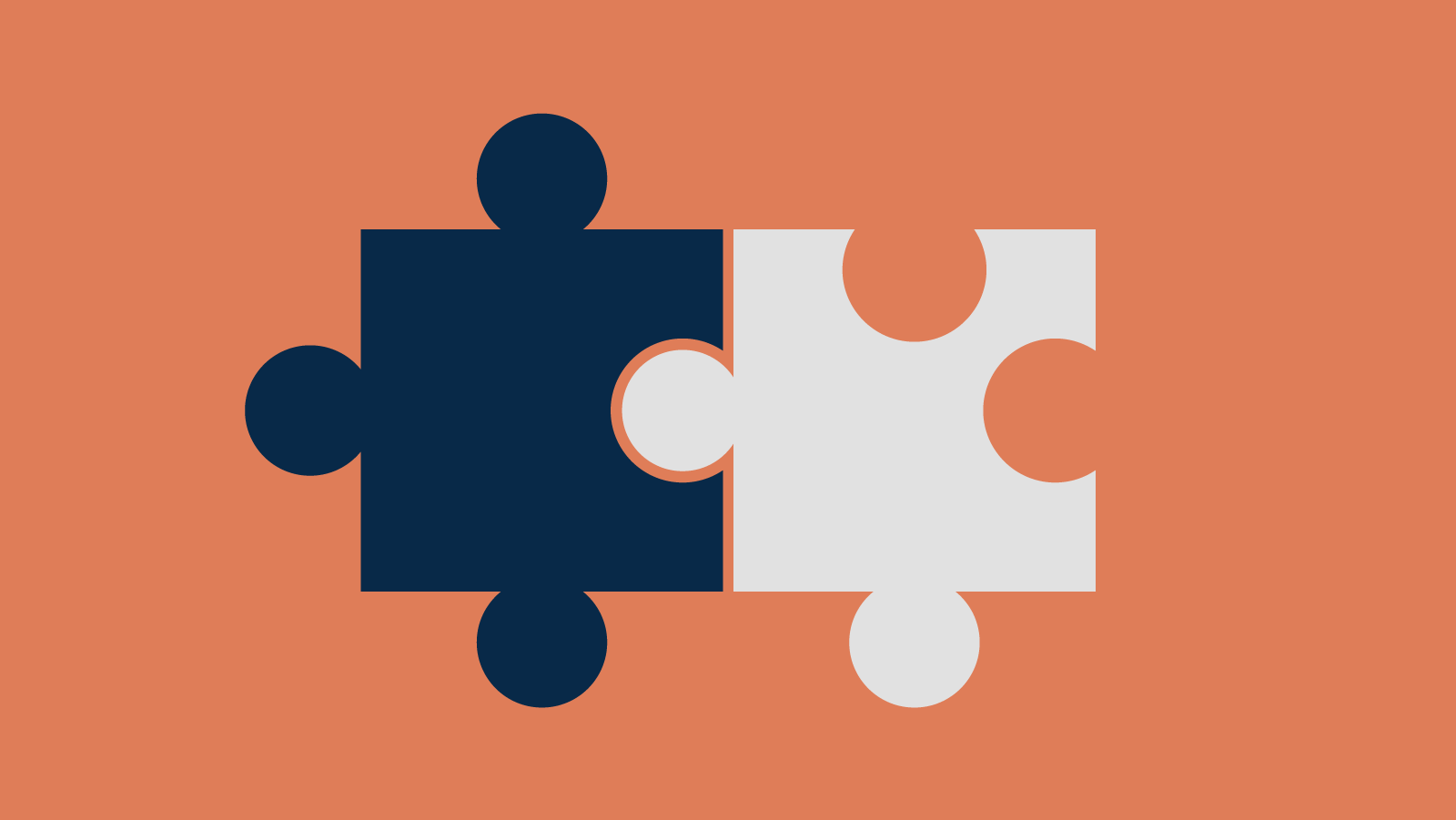 I quit my job at KPMG Law to work at Counter. I assume that you're reading this article because you're thinking about doing something similar.
The short version of the story: I wanted to join a team that is working hard and figuring out new ways to grow better lawyers instead of one that is happy doing things the same way that they've always been done. The team I wanted to be part of was Counter.
The even shorter version: after quite a bit of overthinking, I realized it came down to two simple questions and two critical answers.
Question #1: Do I want to join a team that is trying to build something better?

Question #2: Am I willing to live my life wondering what could have been?
So, I looked for evidence that Counter was, in fact, building something different than every other law firm. I didn't want to join a law firm that was KPMG-lite. Also, I thought deeply about whether I was willing to let fear override my desire to join and build something better.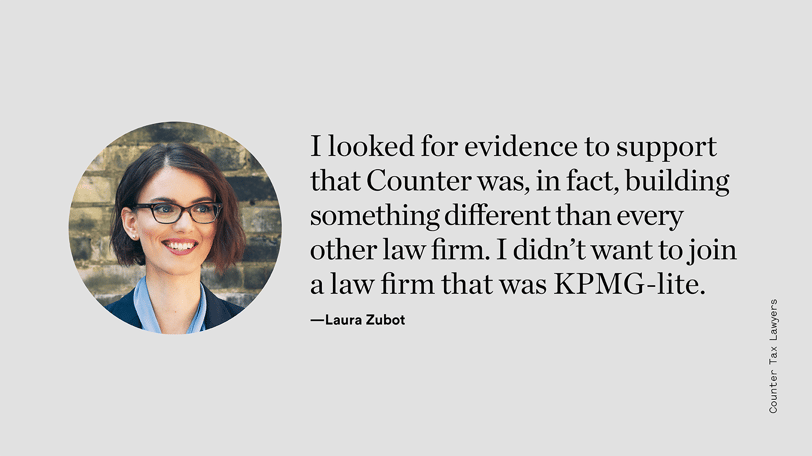 Here are a few contrasts and experiences that confirm I made the right move.
Process + Mentorship = Learning
At KPMG, everyone had the best of intentions to provide mentorship to improve my legal writing. However, in practice, when I wrote a first draft, urgent deadlines would inevitably cause the senior lawyer to run out of time to provide any guidance. Instead, the senior lawyer would rewrite my draft, then pass it up to a partner who would scrap that draft and write a third draft. It was – let's say – challenging to figure out how to improve my writing by comparing completely different documents.
One of the things that prompted me to apply to Counter was seeing on the firm's website that the team included a legal editor (which was also a "wait, why doesn't every firm have one?" moment), because I figured the editor would make revisions that would actually help me learn how to be a better writer. I wasn't wrong. Also, Counter's whole legal writing process is awesome and means I get multiple levels of feedback to help get the final draft to the Counter Standard™. Admittedly, we're still working to identify and communicate the Counter Standard™ internally, and my drafts still get rewritten to some extent – but what gets sent out resembles what I wrote! It has led to a huge improvement in my writing, and it gives me confidence that I will continue to learn and grow as a writer and advocate. Unsurprisingly, this process is more efficient than having multiple lawyers re-draft a document, which means that more senior lawyers can't use the usual excuses for failing to provide real mentorship and learning.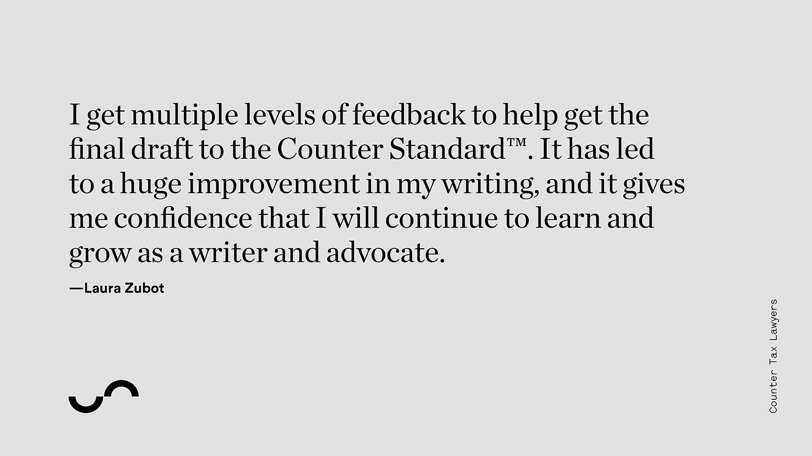 Happy & Energizing Teammates
I was recently having brunch with some friends who work at various large law firms, and we ended up on the scary topic of our long-term futures. A common refrain among my friends was that they weren't sure whether they ever wanted to make partner, because all of the partners seemed stressed, dissatisfied, or just plain unhappy, no matter how much they professed to love their job. This was my experience too – while most of the junior lawyers were enthusiastic and light-hearted, most of the partners (and the senior lawyers trying to make partner) seemed burnt out and frankly, in some cases, utterly miserable. In retrospect, I think this is a large part of why I was willing to leave - I didn't want to become them in the future. Although Yoni, Natalie, and Peter obviously get stressed out from time to time, they're somehow also always enthusiastic and upbeat (and do things like sending out links on Slack to that "Everything is Awesome!" song from the Lego Movie that annoyingly gets stuck in my head for a week).
Collaboration & Interaction by Design
One of the things I didn't realize until I moved to Counter was how much I missed human contact at work. Yes, I realize how ridiculous that sounds. But at KPMG I was siloed in my office 90 per cent of the time. Communication with coworkers happened over email. If a teammate's office was on the other side of the hall, I might not see them for days. At best, I would walk with someone to buy lunch, but we would sit in our respective offices to eat. We had a lunchroom that I literally never saw anyone use except for making coffee. I used to try to think of tax issues I could seek advice about just for an excuse to speak to another human being.
Surprisingly, one of the aspects of Counter that I was most worried about – the open office without designated desks – has turned out to be one of my favourite things about it. I've gotten to know everyone on the team by sitting next to someone different every day. If I read a funny tax quote, I can turn around and point it out to whoever's nearby. Even on days when I'm hunkered down with my headphones in trying to finish something, our daily huddle forces me to check in with other humans and remember that a world exists outside of my computer screen.
Visual Reports vs. 40-Page Memos
At KPMG, I wrote a lot of memos. Let's be honest, that's what junior lawyers do at large and traditional law firms. At times it was tedious or frustrating – like when I finished a 40-page memo outlining all the facts and legal issues in a file, only for the case to settle before anyone even read the memo (of course, the client still had to pay for all the hours I spent on it). But I figured there was no other way to build a case. Then, on one of my first days at Counter, I learned about relevance diagrams, which are the second-best thing ever (after the legal writing process). No more writing unnecessary memos, and when I go to refresh my memory on a file after months of waiting on the CRA, I am very happy to have a chart outlining all of the legal issues, arguments, and facts, instead of a 40-page memo to reread.
No Limits
At Counter, I'm not pigeonholed into the role of "third-year associate". Instead, Counter's environment and culture give me the freedom to design my own career path and determine which responsibilities I'm ready to take on. No one has ever said "no" when I want to do something. In fact, I've been encouraged to take on responsibilities that I wouldn't have asked for, like being first chair if certain files go to court. If I'm concerned that I don't have enough experience to handle something, we sit down and think about what skills I need to develop to be ready and how I'll develop those skills. In the case of being first chair, I realized that I was ready, I just needed the team's trust in my capabilities to realize it.



Learning & Building Something Better, Together
So, my decision to leave KPMG came down to two questions. Now, I'll invite you to think about your firm and answer the same questions.

Question #1: Do YOU want to join a team that is trying to build something better?
Counter isn't perfect, but it's definitely not KPMG-lite. We're a group of people working, together, to find ways to be better lawyers and people. I don't think the things that I was dissatisfied with at my previous firm were ever going to be addressed, let alone changed. I do not want to be a part of something that isn't even trying to improve or adapt. I want to be a part of a law firm that is trying to do better work, deliver better mentorship, and improve everything.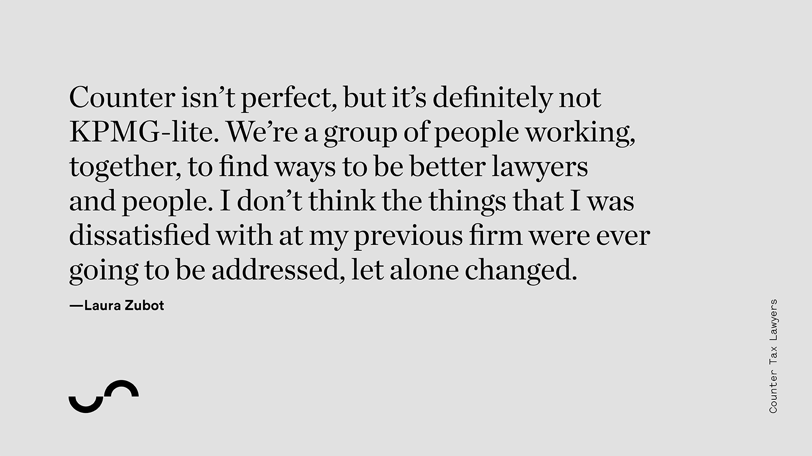 Question #2: Are YOU willing to live your life wondering what could have been?
It's probably not a good idea to base a decision on fear. I know that leaving a law firm that you're comfortable at is scary. But honestly, what seems far scarier is staying in an environment where you don't really see or talk to anyone, receiving little training and mentorship, and await a future as another unhappy large law firm partner.
You may think leaving your law firm is a risk but waiting and hoping for your law firm to change is a bigger personal and professional risk.
If you answered these two questions the same way I did, head over to our careers page, or you can reach out to me, and we'll meet at Boxcar to chat – just don't ask me any of these questions :)
Load more text
See less text