*The author wrote this article to support his work with the Ontario Bar Association's Innovator-in-Residence program. The OBA published an abbreviated and modified version of this article in its Innovator-in-Residence newsletter.

The people in our industry will not thrive unless our law firms adopt an organizational model that unlocks the talent and creativity within every person, at every level, in our organizations.

The traditional law firm model is a hierarchical pyramid model. It has helped the legal profession create very profitable and powerful organizations. This traditional model has many advantages, and it flourishes when complexity is low. However, this model is the primary force working against our people and their ability to uncover innovative legal solutions. Also, it limits our ability to reinvent our industry and avert external disruption.

To reinvent our law firm, Counter has formally adopted a distributed power model, and we're exploring what's possible. We're creating a law firm that is systemically distinct from every other law firm in the world. Counter's DNA is changing, and it's transforming our law firm and our people.

We believe that our new model is creating the optimal environment to foster more powerful legal professionals and human beings. We believe that we're designing the best conditions for legal professionals to learn, grow, and do quality work. And, we believe that we're creating an environment and space where people can co-create innovative solutions that will make Counter the most impactful law firm in the world.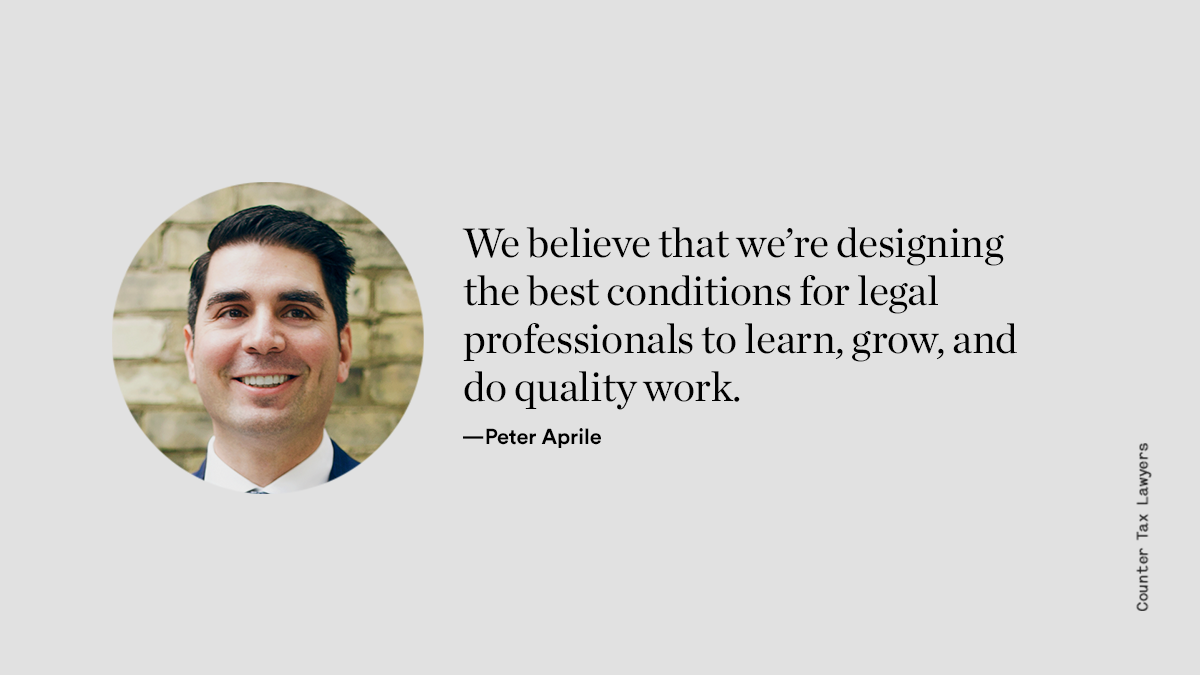 The Ontario Bar Association has asked Counter to share its progress and real-time evolution. We hope that our experience and guidance will set an example and give other law firms the courage to start to transform their law firms.
Surface policies won't fix the problem.
Traditional law firms have a hierarchical pyramid structure, automatic adherence to precedent, and a culture of conformity (just like the military, religious institutions, and our common law system). Such a model leads these law firms to adopt specific practices and processes, e.g., top-down decision-making, compensation practices, etc. These processes and practices lead to rules, characteristics, and values that the organization's work environment and culture absorb.
All these things affect how the people working in the environment think and act (and all these things feed the control, ego, guilt, and shame that hold everything together). Simply put, a law firm's model, practices, characteristics, environment, and culture are interdependent and inextricable.
Most law firms are apathetic. However, some well-intentioned law firms, legal professionals, and commentators suggest various policies and initiatives to fix different practices, characteristics, or cultural issues. Legal marketing departments are quick to tout new people and innovation initiatives (the "surface policies"). HR departments pray that these initiatives improve engagement, diversity, retention, professional development, collaboration, and innovation. However, we believe that surface policies are insufficient.
If the organizational model is the source, if the model's elements are interdependent and inextricable, the surface policies will not fix the underlying issues. At best, they'll lead some improvement. At worst, the surface policies rearrange the deck chairs on the Titanic, and they'll lead to unintended and unfavourable consequences.
We see it, now.
Counter's structure was a top-down hierarchical model. The people who work at Counter permitted me to lead. I chose to accept the role, but I've always known that the top-down hierarchical model – no matter the leader – didn't fit our law firm.
As with all law firms who use the traditional model, Counter's top-down hierarchical model slowed – but did not block – its success. We're proud of what we have built. We've always focused on doing great work and, although we were working under a suboptimal model, we worked hard to put people in the best position to learn and grow. We knew that our technology tools would amplify our legal expertise and put all the roles on our legal team – no matter the level or stage – in a better position to learn, dig deeper, and conduct a more sophisticated litigation analysis. It's nice that some people say that we "punch above our weight". However, we don't drink our own Kool-Aid. It's very clear to us that we're far from perfect. We see our current state, the things we didn't see, and how far we want to go.
We didn't see that – although Counter did great work, trained some really smart people and built innovative tools – our old organizational model worked against our purpose and our people. We didn't see that our top-down hierarchical model was a subtle tidal current pulling our ship away from our desired destination. And, if allowed to do it again, some Counterparts might argue that we ought to redesign our organizational model before pursuing technological innovation.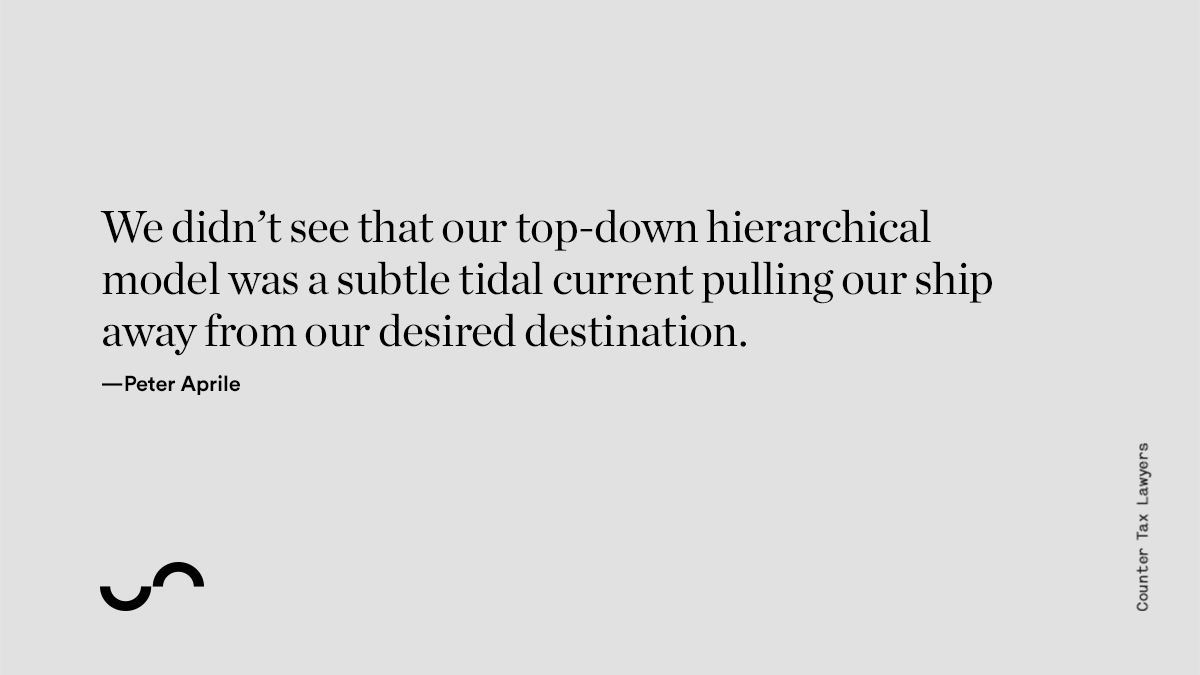 We didn't know the way. So, we started walking.
In the last six months, we've started to redesign our organizational model. In particular, we've adopted a distributed power model; we've started to transform our pyramid into a circle.
Our organizational transformation hasn't required any significant financial capital outlay. We haven't bought anything special. We haven't learned to code. It might be our lowest-tech innovation. It seems that fear and some psychological pain are the only impediments. Admittedly, adopting a new organizational model is the scariest and hardest journey that we've travelled. It's scary and hard for so many reasons.
First, we don't know the exact destination, we don't know the waypoints, and we don't have a map. And, it isn't the type of thing we (or any) organization can buy, unpack, and install – even if some consultants want us to believe otherwise. We found some other organizations that act as models and compasses pointing us in the general direction.
Oh, one more little thing … we're confident that individual growth, pain, and internal disruption are prerequisites to organizational transformation.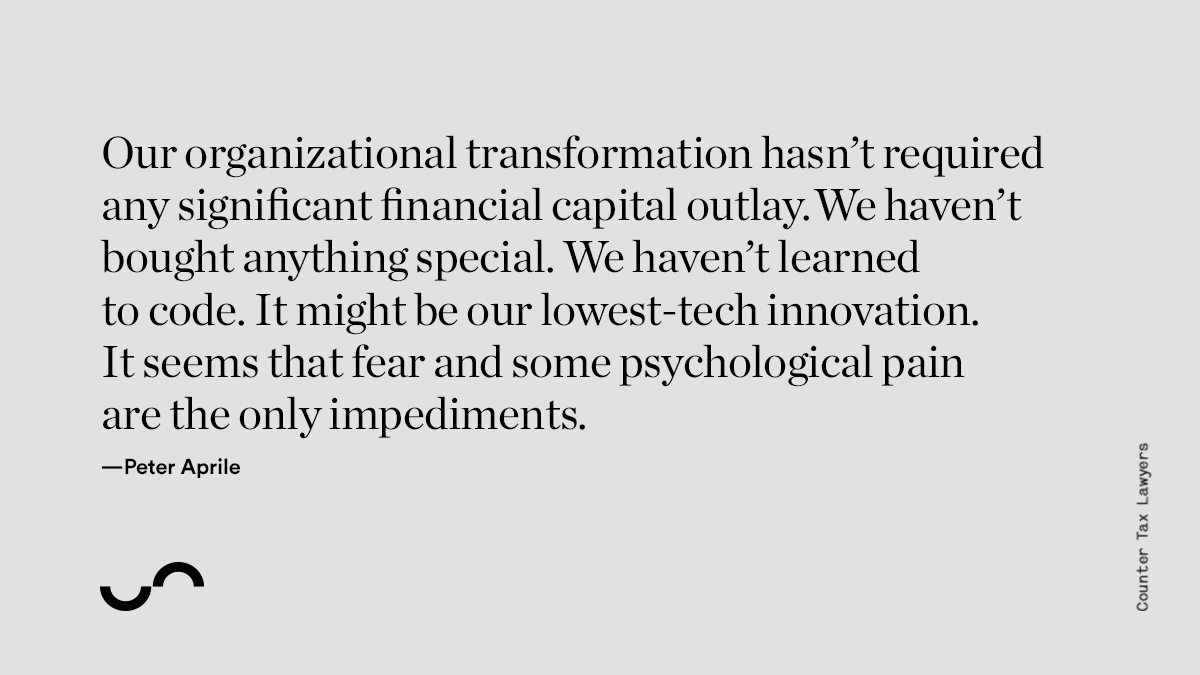 This is us, burning our boats.
Although we're experiencing significant personal and organizational disruption (and we're pretty confident that more growth and pain is coming), we see the benefits. We've started to feel what's possible. We've started to see the shift in our people. We're pretty sure that it's going to make us better legal professionals. We see problems and opportunities differently.
We used to feel like we were really good at seeing the angles. Now, we're starting to feel like we can see around corners. We've started to see ourselves and each other differently too. We feel smarter and more connected. We think different, act different, coach different, and our humour is getting even geekier.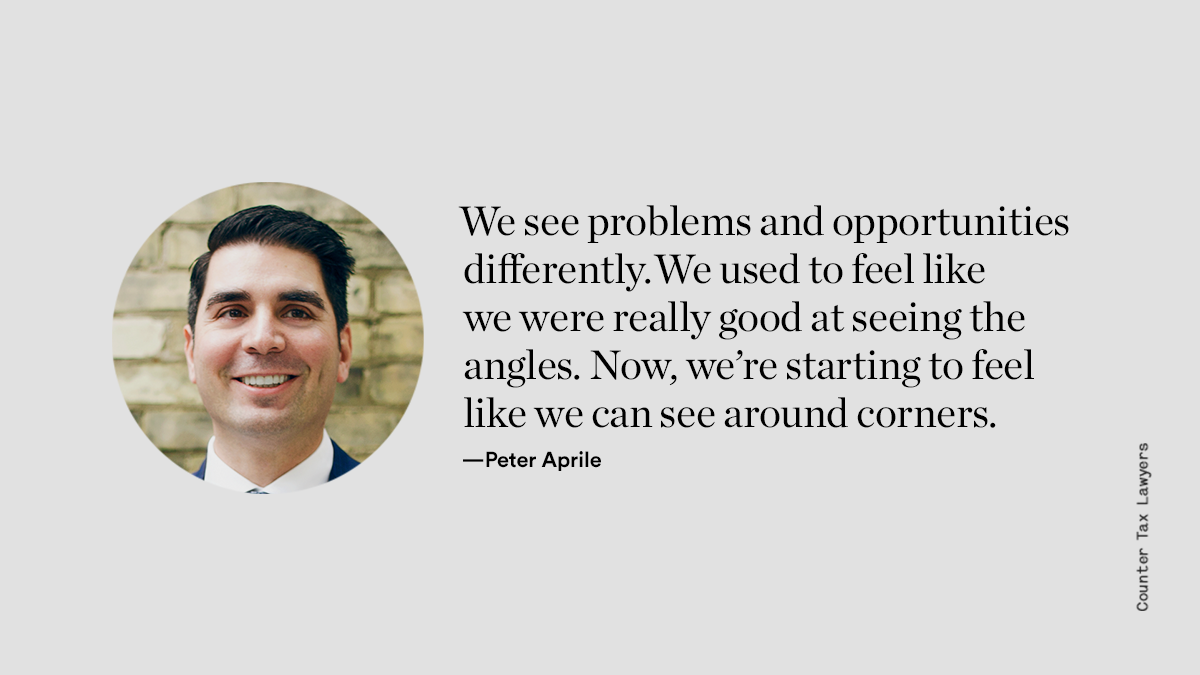 We've learned and experienced enough to believe that – even though we don't know the exact path or destination – we're not going back. This is Counter's path. We've always felt that Counter was a special little law firm. And, in some small way, we saw Counter – with all its flaws – as perfect. However, we're willing to destroy the perfect to enable the impossible.
We're willing to burn our boats to put our people first. We're willing to accept the risk to create a stronger organization where people can thrive, connect, and co-create solutions to complex problems. We believe that we owe it to our people, our clients, and our organization.
We think that reinventing Counter is the most important thing we've done. So, we'll succeed in reinventing Counter or Counter will die. And, if we fail, I guess we'll take jobs inside traditional law firms.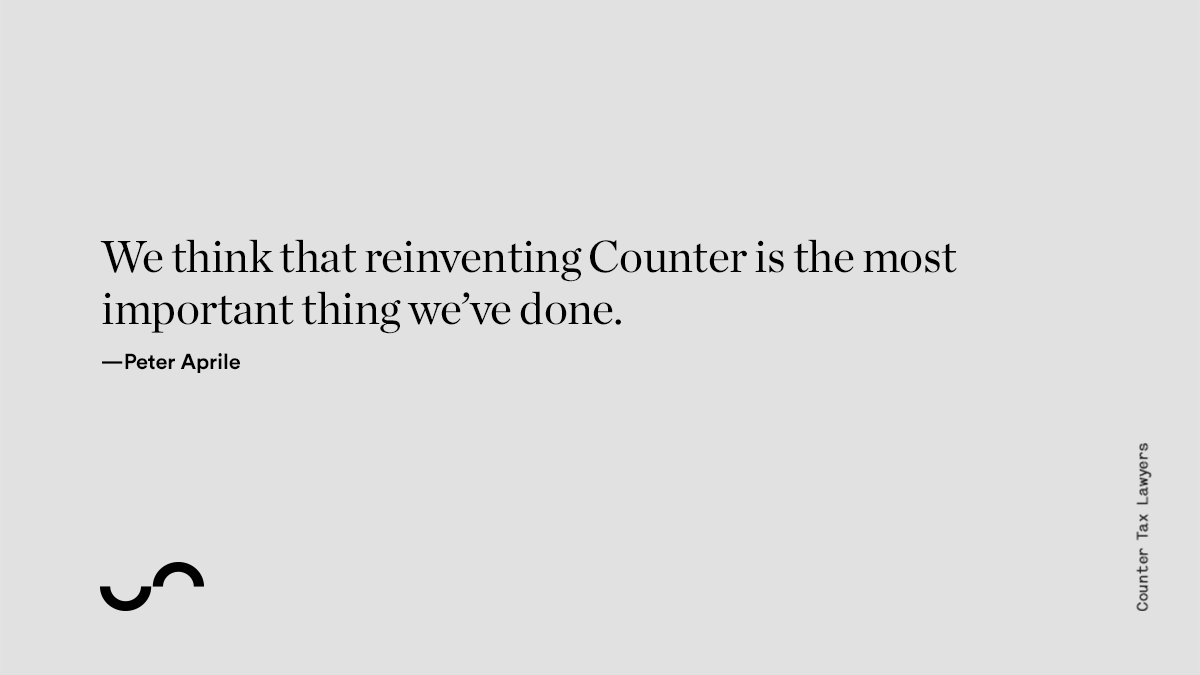 We'll go first. You go second.
We've earned a little knowledge and experience, and we're willing to share with the OBA and other law firms. We intend to host conversations, and share some tools, related to the following topics and issues.
First, we intend to discuss our perspective on the traditional pyramid model and the distributed power model. We'll share the things that we've learned from other organizations working to explore and evolve.
Second, we discuss our perspective on law firm leadership, the qualities that leaders will need to steer law firms toward a distributed power model and that unique law firm environment and cultural challenges. Also, we'll discuss internal and external disruption and the changes that all people in our organizations need to make to lead this change together.
Third, we'll share the mechanics and process that we used to create Counter's dynamic purpose-driven roles and explicit accountabilities. In particular, we'll explain why and how dynamic role definition is critical to power distribution, autonomy (including decision-making authority), and self-organizing teams. We'll publish some examples and a guide to help law firms start to mapping the roles in their organizations.
Fourth, we'll map and discuss the adoption curve and the dips that individuals and organizations have experienced in adopting distributed power models.
Fifth, we'll share how we're using peer support programs to self-manage personal and professional development that emerges during the transformation to a distributed power model.
Join & Lead
We hope that Counter's reputation, experience, and "burn the boats" commitment, will lead other law firms to take concrete steps to adopt a new organizational model.
But, if law firms choose apathy, we'll invite their people to join us and, together, we'll co-create the most impactful law firm in the world.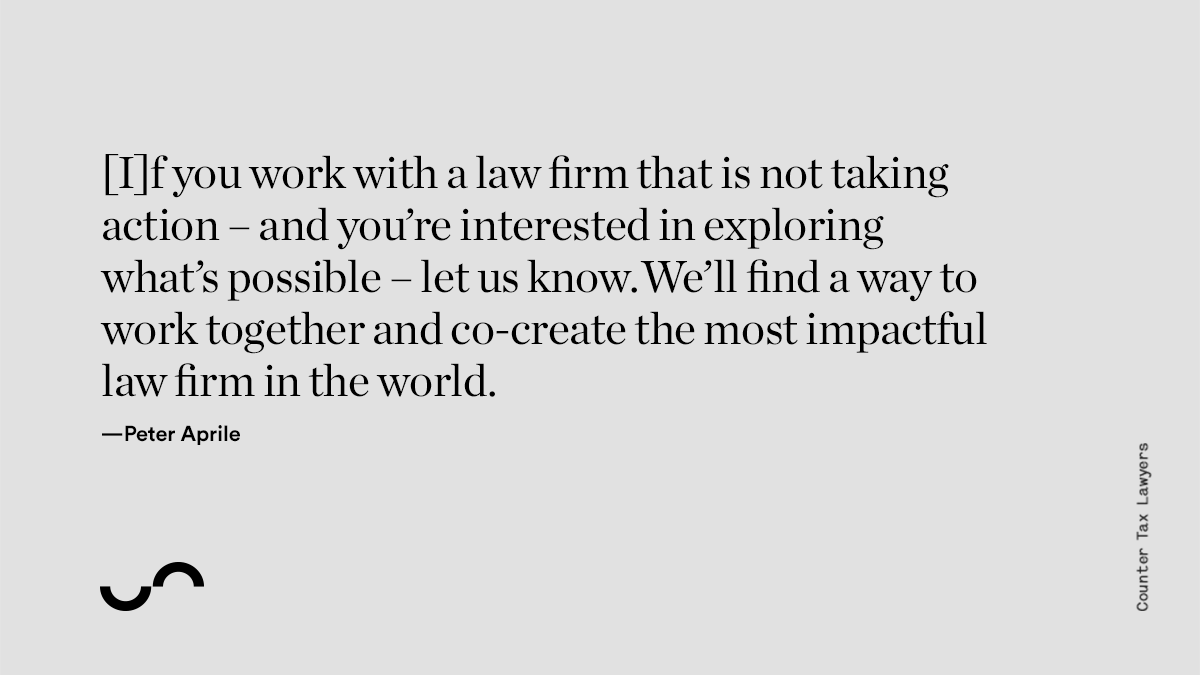 Load more text
See less text