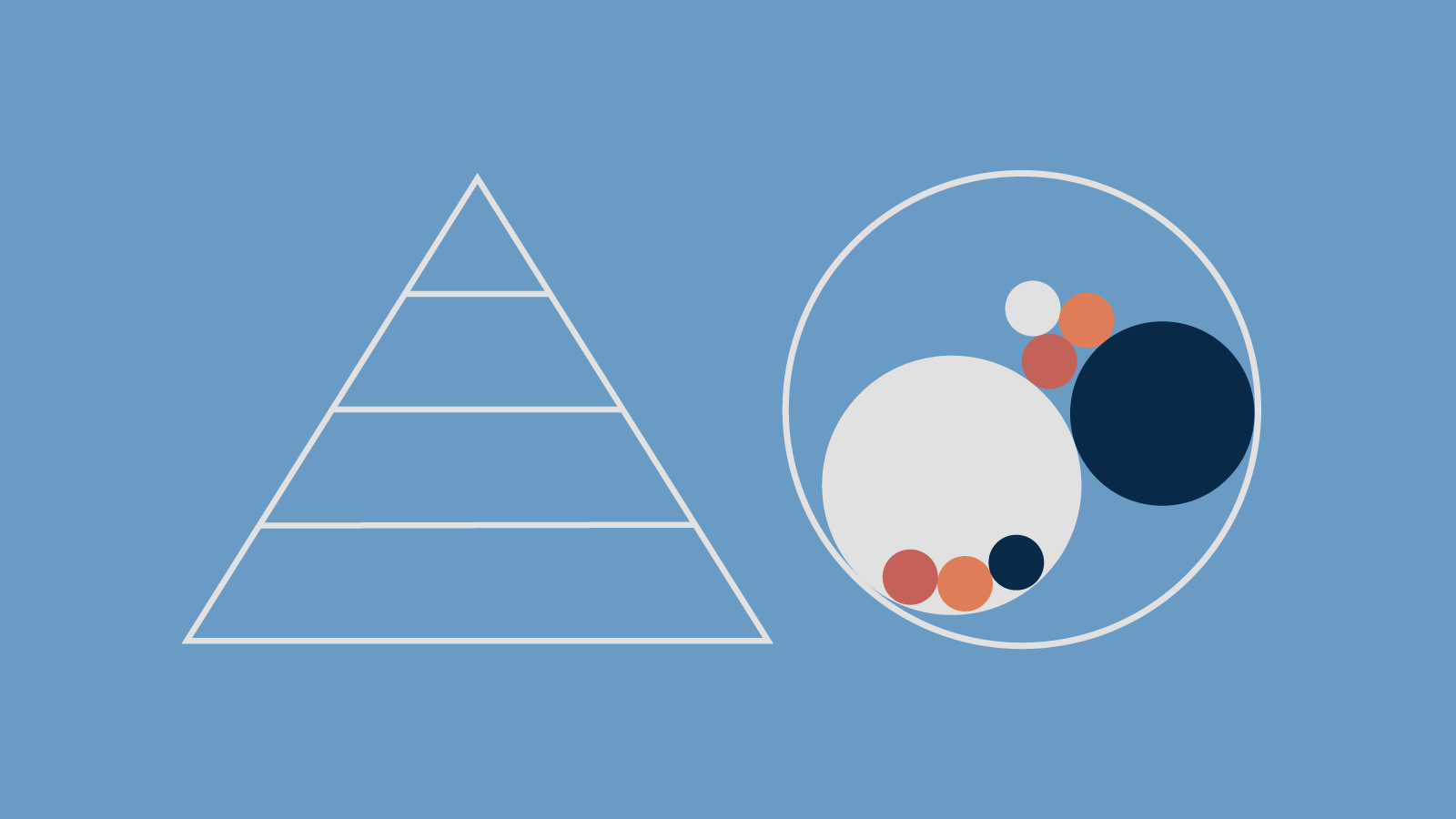 This article was originally published by The Lawyer's Daily, part of LexisNexis Canada Inc.
The Ontario Bar Association's (OBA) new president, Colin Stevenson, who stepped into the role on Sept. 1, was inspired to make innovation the organization's theme this year. This was motivated in part by the OBA's innovator-in-residence, Peter Aprile, who, along with other legal professionals at Counter Tax, have undertaken a "hierarchy based on expertise" model at their firm.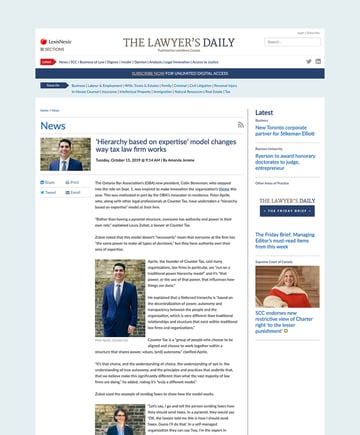 "Rather than having a pyramid structure, everyone has authority and power in their own role," explained Laura Zubot, a lawyer at Counter Tax.
Zubot noted that this model doesn't "necessarily" mean that everyone at the firm has "the same power to make all types of decisions," but they have authority over their area of expertise.
Aprile, the founder of Counter Tax, said many organizations, law firms in particular, are "run on a traditional power hierarchy model" and it's "that power, or the use of that power, that influences how things are done."
He explained that a flattened hierarchy is "based on the decentralization of power, autonomy and transparency between the people and the organization, which is very different than traditional relationships and structure that exist within traditional law firms and organizations."
Counter is a "group of people who choose to be aligned and choose to work together within a structure that shares power, values, [and] autonomy," clarified Aprile.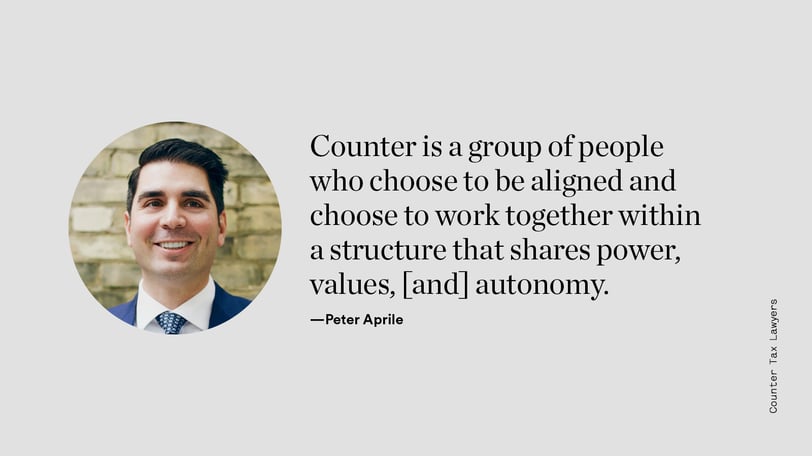 "It's that choice, and the understanding of choice, the understanding of opt in, the understanding of true autonomy, and the principles and practices that underlie that, that we believe make this significantly different than what the vast majority of law firms are doing," he added, noting it's "truly a different model."

Zubot used the example of sending faxes to show how the model works.
"Let's say, I go and tell the person sending faxes how they should send faxes. In a pyramid, they would say 'OK, the lawyer told me this is how I should send faxes. Guess I'll do that.' In a self-managed organization they can say 'hey, I'm the expert in sending faxes. I'm the person who has authority to decide how that's done. Here are my reasons for doing it this way.' And it doesn't matter whether I agree with that or not because I don't have authority to tell them how to do something in their area of expertise, which makes whoever's the expert the person who has authority," she explained.
This authority is derived from the fact that they are an expert, Aprile added, and "not because of how long they've been around or some other, arguably, irrelevant quality."
"The relevant quality that they have, and what they've earned, is that they're an expert and that is what drives their domain and autonomy to make decisions and to figure out what's best," he said, noting that this doesn't mean someone outside the role might not have insight that the expert hasn't considered, but the relationship and exchange that occurs is different in a non-pyramid structure.

"That person [the expert] is invited to consider it, and can choose to consider it and implement it, if he or she sees fit, or choose to reject that entirely in the end. Complete autonomy is control to do either one. And there's no negative repercussions if they choose some path that, let's say, I wish they'd chosen a different path," he added.
Aprile clarified that describing the model as a flattened organization is "shorthand" for what Counter is doing, but it's not entirely accurate.
"It is a hierarchy based on expertise and it's your expertise which drives the power and autonomy that you have. It's your ability to gain a mastery of something that leads into that autonomy," he said.

Zubot and Aprile acknowledged that organizations are often focused on "symptoms," such as a "lack of diversity," but that symptoms won't change unless the structure does first.

"At Counter, we don't expect the cure based on curing the symptoms or addressing the symptoms. The question is, how do you go to the underlying root cause of everything of what we do and how we work? We believe by addressing the structure, that is a way to cure the symptoms," said Aprile, adding that the best way to "address the structure is to shift the power in the organization into something different than it currently is."

"Enable an environment for autonomy and grant people real decision making [powers] and freedom. That's not being discussed, or even entertained, by most organizations," [Aprile] explained, stressing that this is the way Counter believes it does its best work.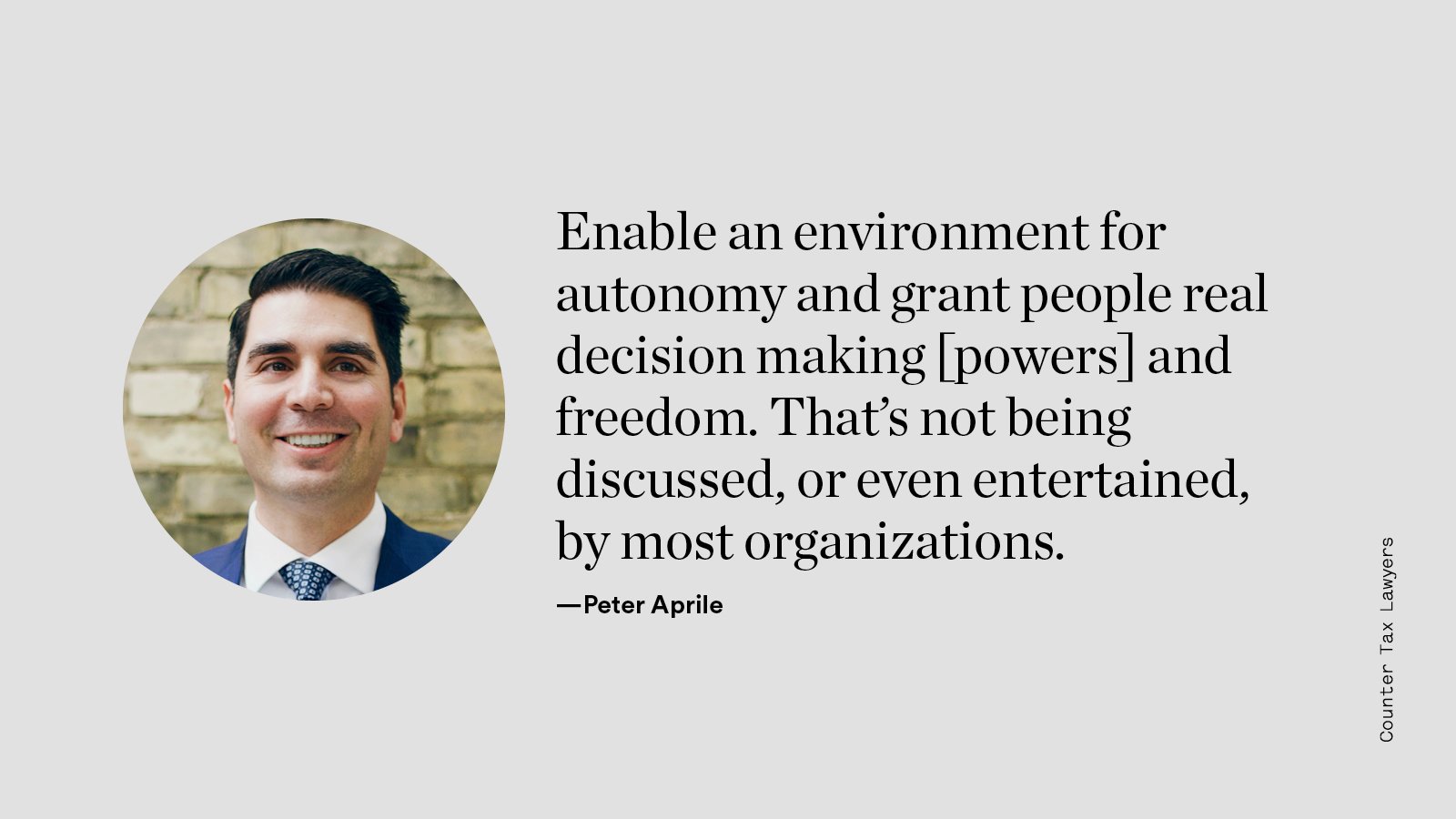 Zubot noted another example of how the firm is "opting in" to change its structure is by encouraging transparency in its hiring process through a bias test, which people can then voluntarily share with the rest of the firm. Bias is acknowledged and by choosing to share the results with the rest of the firm, it inspires others to do the same without having to put a mandatory policy in place.

"It's a structural shift that then influences culture," explained Aprile. "It influences how we work. It's changing the materials and the relationship that we're using in order for this other culture to have the opportunity to emerge."

Aprile said he started reading about non-traditional models three years ago and in September 2018 he introduced the idea of a [new] model to the firm. Counter has been working from that model ever since, learning as they go and posting about their journey on the firm's website.
Load more text
See less text