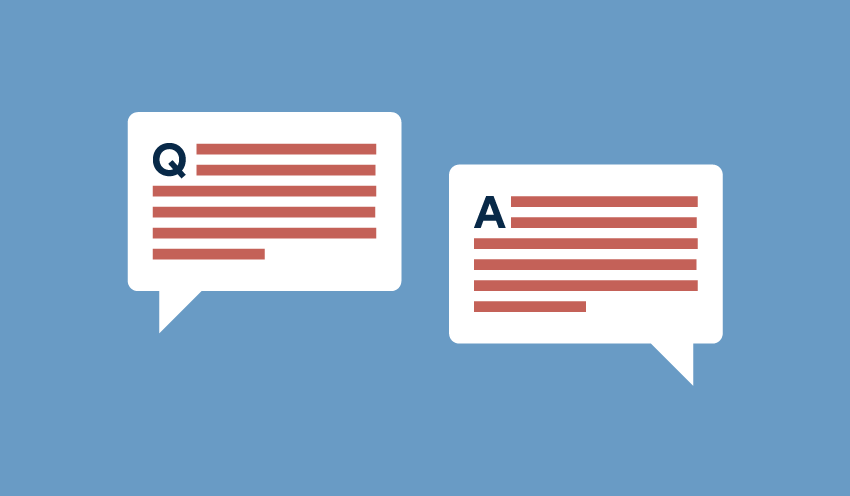 We had an idea: let's crowd-source the tough questions that candidates should ask but maybe don't because they're a little nervous / they don't believe we'd answer truthfully / they think we'd get offended and never hire them.
So we asked our team, other lawyers, legal recruiters, and candidates to send us the questions that could make a big difference to them. And now we're answering them. Because we want you to make an informed choice. We believe that asking and answering hard questions is a good way to learn the truth, and it will help you make the right choice.
In two days, we received 161 questions … and we are still getting more. Some of them were redundant, but we didn't include the duplicates because that would be weird. We expect to update this list regularly with more really smart candidate questions. And we might also edit it repeatedly because we're perfectionists who have a hard time letting things go.
We know, it's a huge list. You don't need to read the whole thing, but we went to all the trouble of writing it, so you'd better we hope you'll find something useful.
Oh, and if you read the whole thing and still have questions, bring them with you to your interview. We'll answer.
Professional Development & Growth
Q01: What are the opportunities for growth?
Our firm expects significant growth in the next five years. The people that join our firm now will have the opportunity to gain hands-on experience and mentorship and will shape the future of this law firm. In fact, we hope that our work will shape the future of the legal industry. We don't know another law firm in Canada that provides an equal opportunity.
Q02: Do you plan career advancement? If so, is it based on the employee's interests or the firm's needs?
We give team members exposure to different types of work and plan career advancement as those interests develop. We hope that team member interests align with the organisation's goals.
Q03: Do you support further relevant education (CPA, mini MBA, etc.)?
Yes, our firm is committed to creating an environment that encourages and supports personal and professional development. For example, all new lawyers at our firm will enrol in and complete CPA Canada's In-Depth Tax course and the Advocates' Society Skills Certificate. All team members are encouraged to complete other continuing education courses, e.g., Lean Six Sigma, writing workshops, project management, etc.
Q04: Who will train me?
We work in a high-collaboration environment and, therefore, every team member will help with learning and training. If you are on the Legal Team, Yoni will play a key role. However, Hank can teach you more than the rest of us combined. (Hank is our internal wiki / source of all knowledge.)
Q05: How often do you give feedback to employees?
We give regular feedback at the completion of every assignment. Also, we encourage team members to request feedback. We are currently rolling out a new system to reward requests for feedback, ensure that we are giving effective feedback, and to guide the process.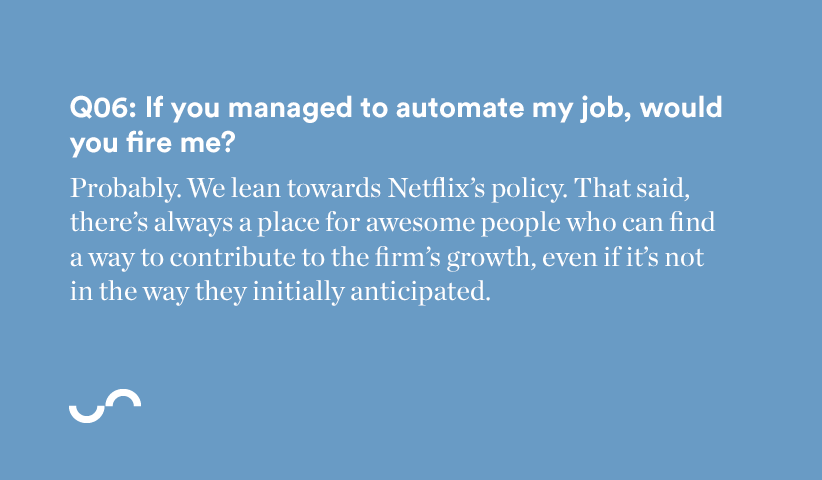 Q06: If you managed to automate my job, would you fire me?
Probably. We lean towards Netflix's policy. That said, there's always a place for awesome people who can find a way to contribute to the firm's growth, even if it's not in the way they initially anticipated.
Culture & Values
Q07: What do you believe are Counter's greatest strengths?
Our relationships, high standards, hunger to build the law firm we want to see in the world, and our humility.
Q08: Are you all crazy?
Yes, we are crazy, but, together, we feel less crazy.
Q09: What are the inner workings or culture of the firm like?
Our culture and environment resemble a software company mixed with a law firm. We do things like set OKRs, run daily stand-up meetings, build software, and control our processes using workflows. We're very organised and very driven. We also have fun regularly.
Q10: Do you normally eat lunch together?
At times, yes. At other times, no. If you work here you'll hear someone shout, "Does anyone need lunch?" or "Does anyone want to grab a salad?" every day. In most cases, the response is "I'm in!". In some cases, it's "You don't win friends with salad".
Q11: What resounding trait is common in your team?
We are working on figuring this out. We call it "Missing Core Value #6". It's like a missing jigsaw piece, and trying to find it is driving us a little crazy. We are playing with "Give", "Be Selfless", "Commit", "All in", and "Partners".
We think it has to do with how we invest in each other or how we look out for one another. It has to do with how we are all committed to putting each other in the best position. It's about putting you ahead of me and knowing that, when it comes time, you will do the same thing.
If you find the right word for this kind of thing, let us know. Immediately. (Ideally, it would be a one-word verb that's not lame, but hey, we'll take what you've got.)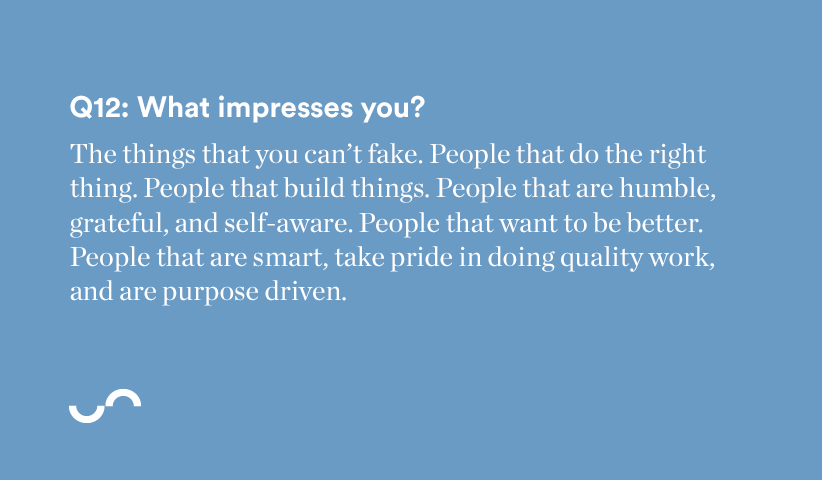 Q12: What impresses you?
The things that you can't fake. People that do the right thing. People that build things. People that are humble, grateful, and self-aware. People that want to be better. People that are smart, take pride in doing quality work, and are purpose driven.
Q13: What is the most unique thing about working at Counter Tax Lawyers as opposed to working at other law firms (or tax law firms)?
We are focused on building something bigger. And we're truly "all-in" for each other.
Q14: What is the most common reason that someone does not get hired?
Attitude. We can teach skills, we can't teach attitude. See question 12.
Q15: What is the work culture? Are you collaborative, or do people work in silos?
Highly collaborative environment. We believe in collective intelligence, and we value different perspectives and ideas. We always pursue the best idea or argument rather than blindly accepting the idea or argument of the most senior person in the room. Our office layout encourages collaborative work, e.g., open office, breakout spaces, collaboration screens and systems, etc.
Q16: Who (which partners, especially) should I be avoiding at the firm?
At times, you might want to stay out of Peter's way. He gets fired up. It's an easily identified mood, though, so don't avoid him altogether – he'd be sad and lonely.
Hours
Q17: Can I work from home?
Yes, everyone in the office works one regular remote day per week. You can move the day around if you need to, but on the whole, keeping things consistent makes it easier for everyone to know where people are.
Q18: What's your policy on flexible hours?
We have "core hours". We expect team members to be available from 10:00 a.m. to 4:00 p.m. whether working in the office or remotely. We expect that all team members attend (either in person or through web conferencing) a daily 10-minute stand-up meeting.
Q19: Some Bay Street firms have an unspoken policy that vacation is not limited so long as billable targets are met; how does your firm allocate vacation time? The vibe at X is that billables excuse everything, and the biggest incentive to work hard is the reward of getting the hell out of there for as much time as possible. You make your own schedule and vacation as much as you need, but it's partly because no one even notices if you don't come in, and you exist as a number in a spreadsheet anyway. Vacation/personal time is not sacred; it's just another word for working remotely.
Ummmm..... Well. We'll notice if you don't come in. We'll try to forget you exist while you're on vacation. We'll welcome you with open arms when you come back and try to make you promise never to leave again.
Generally speaking, the people on vacation are usually the ones who have difficulties with this premise. Yoni came in to film the CounterOffer video on his vacation because, well, see question 8.
Q20: How long is lunch?
As long as it takes – it kind of depends on whether we're at Freshii, Terroni, Rosedale Diner, or Wiley's, if we're being honest. Generally speaking, though, we all have lunch at 1:00 p.m., (i.e., right after our stand-up meeting), which is kinda weird and kinda awesome.
Other
Q21: Is the firm planning on expanding and growing in the next few years?
We expect that Counter will 10X notices of appeal filed and 3X our team size in the next five years.
Q22: In five years, does Counter see itself remaining a small boutique? Or does it see itself rapidly growing and expanding its employee and client base?
See question 21. We don't see ourselves becoming the next McCarthy's. We will continue to choose to be great instead of big.
Q23: Do you foresee any internal or external factors that may impede the continued progress and success of Counter?
The Big Four.
Q24. The Big Four seems like it would hurt the growth of all law firms. What would be something specific to Counter that would impede on Counter's success?
We think that, given our practice area, we are a little more at risk. However, we can add a couple more external factors that might hurt our law firm and our practice area. Obviously, technology is one. Will technology replace lawyers or limit the number of disputes? How will blockchain technology and cryptocurrency impact the tax system and disputes? Also, law firms will – eventually – restructure and lead to more boutique practices and competition. How do we set ourselves apart when more and more firms look like ours?

The internal factors that could impede Counter's growth are, generally, people questions.

Can we attract the right people? What is the best way to train the people that join our team to ensure that our quality, and values, spread? How do we chase the highest standards while exercising empathy? How do we build deep relations with new team members (and deep relationships amongst team members)? How do we make everyone a generous (and resilient) leader? How can we help people understand what we are trying to do and why it is valuable when they so often see our organisation through a traditional lens? Can we successfully transition from a small law firm built on, in large part, Peter's reputation to a platform in which the firm is more powerful than any one individual? Can we distribute autonomy and control and create a system that properly balances quality, systems, and freedom so that the organisation continues to grow? Or, will our attempt to achieve something more destroy what is now a successful law firm and business? Will we fall into the same traps that BigLaw and other practitioners suffer? How do we "fire ourselves" at the right time and pass the torch? What can we do to continue to resist short-term gains and drive to long-term goals (especially when, at times, the short-term gains seem more attractive and the long-term goals take sooooo long)? How do we focus on doing the right thing without any expectations? How do we stay true to ourselves? How do we stay accountable, maintain our honesty, and walk the talk?

Side note: At least for that last question, we should probably just keep doing things like this. Thank you to everybody who sent us questions – you're helping us more than you know.
Q25: What is the future of this firm? How do I play a role in it?
Counter will be the top tax litigation boutique in Canada in five years. How do you play a role? Jump in.
Q26: How can I trust that what you present me or tell me during the interview process is an accurate representation of the firm?
You can't. Do your research. Ask people. Ask for proof. Read everything. Listen to the podcast. Try to learn about who we are as people and professionals.
Q27: What sort of benefits package does Counter Tax provide?
We don't have benefits.
Q28: Why don't you have benefits?
We voted and "no benefits" won the vote. We are a young team. We expect that we will vote again in the future. We suspect that, as we get older, the vote will change.
Q29: Will my compensation be discretionary or tied to quantifiable measures, such as billables or firm profits?
Performance evaluation and compensation are tied to quantifiable measures.
Q30: Are there snacks?
Yes.
Q31: Can I bring a dog to work?
It depends. We'll talk.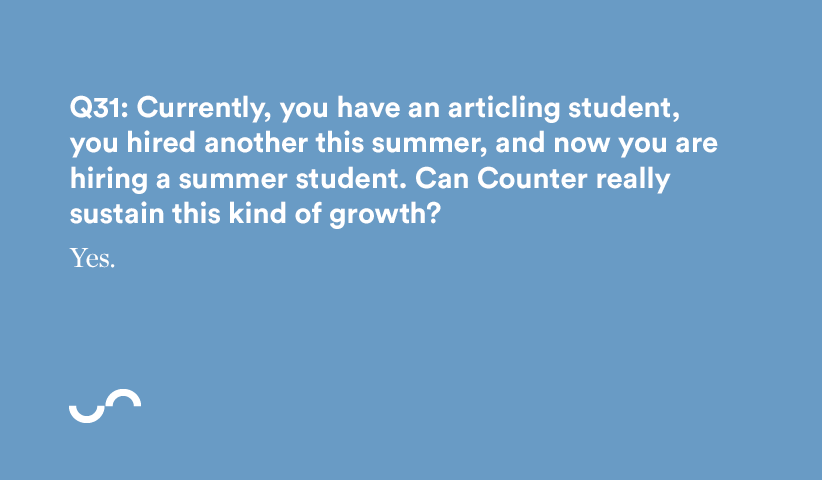 Q32: Currently, you have an articling student, you hired another this summer, and now you are hiring a summer student. Can Counter really sustain this kind of growth?
Yes.
Q33: Is this position opening in response to an upcoming project or goal, higher volumes of incoming work, or recent departures?
We are over capacity, and we are adding Legal Team members to handle higher volumes of incoming work. We expect a lot more, too. Also, we are adding team members to other departments to help with ongoing projects.
Q34: What new challenges do the recent tax reforms bring for Counter clients?
None.
Q35: Is there a dress code?
Business professional for client meetings and other formal events. Business casual most other days. If you work in the office on a remote day, you can wear whatever.
Q36: What competitive advantage does Counter Tax have?
Sigita. What's yours?
Legal Team
Q37: Is there room in the partnership for me down the line? What is the year at which associates are considered for partnership or equity sharing? When will I make partner?
We believe that the partnership model is outdated, and it impedes growth and innovation. In fact, we believe that the partnership model will be one of the greatest impediments to law-firm growth in the next 20 years. We will not use a 20th century model to build a 21st century law firm. In these circumstances, we are analysing alternative models and different flat organisational systems. We expect to test and choose an alternative model in 2018/2019. If you have ideas, we'd love to hear them.
Q38: When will I be expected to start bringing in clients?
You will choose how you will contribute to the organisation's goals. We do not insist that team members "bring in clients".
Q39: Counter is big on incorporating tax and legal technology. How has Counter's practice changed with the advent of legal technology such as Tax Foresight by Blue J Legal?
We believe that tax lawyers working with machines are more powerful than tax lawyers working alone. Our proprietary software and systems, plus third-party software like Tax Foresight, has made us better practitioners.
Q40: Who are your clients? Where do you get them? What does the typical client look like for Counter?
Generally speaking, our clients are entrepreneurs with $100K+ at stake. In most cases, clients are referred to the firm.
Q41: Do you expect me to talk to clients?
Yes, and we think that you will enjoy it and learn a lot. Our clients are good, smart people. We have a no a**hole rule. It includes clients.
Q42: Does everyone have billable targets?
The Legal Team members set their own billable targets.
Q43: Some Bay Street firms only assign BlackBerries in articling, reducing the on-call time of summer students; what is your firm's expectations for after-hours reachability?
First, we will never assign a BlackBerry to anyone, ever. Second, we expect that team members are available 10:00 a.m. to 4:00 p.m., whether working in the office or remotely (see question 18). We hope that team members are reachable after-hours in emergencies (or things that feel like emergencies). We expect that any team member making an after-hours call has a good reason. See: No A**hole Policy, question 41.
Q44: Is working at Counter easier than working at more traditional law firms?
We strongly believe that, in many ways, it is much harder. Ask us about it in your interview.
Q45: Do you collaborate with lawyers from other law firms or is Counter Tax self-sufficient?
We regularly collaborate with other law firms on non-tax litigation matters. We don't believe this makes us any less self-sufficient.
Q46: If it can be disclosed, what is the craziest case Counter Tax Lawyers have ever dealt with?
It depends on whom you ask. We're working on publishing some case studies, though, so eventually, you'll be able to read those.
Q47: Do tax lawyers plan their tax liability better than other lawyers?
The question presupposes that we know how other lawyers "plan their tax liability".
Q48: Will I be encouraged to speak at conferences or client events?
We will work together to set your path. Senior lawyers can volunteer to participate in our Canadian Tax Insights web series. Younger lawyers and paralegals can volunteer to participate in our Counter Tax Whiteboard series, i.e., a shorter, less formal tax education series (launching in Q1 2018).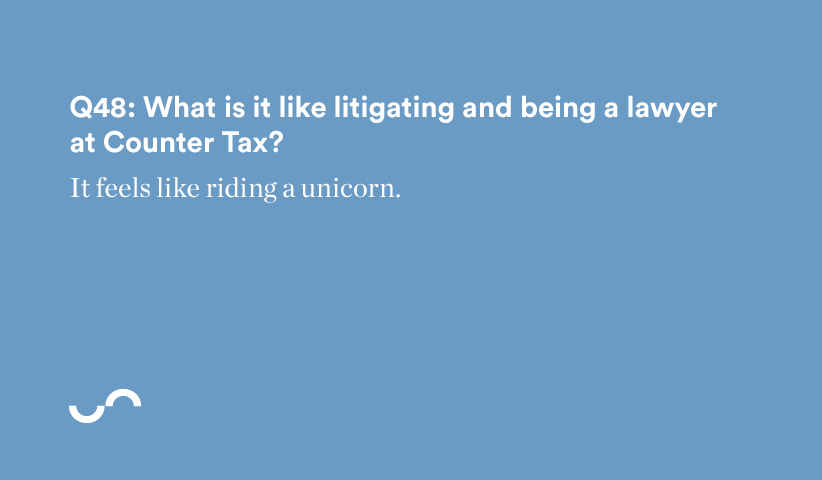 Q49: What is it like litigating and being a lawyer at Counter Tax?
It feels like riding a unicorn.
2L & Articling
Q50: What type of work assignments can I expect to receive during my summer and then as an articling student?
Build a relevance diagram related to X.
Q51: Can you please give me an example of an assignment given to a summer/articling student in the past?
Last week, we asked James to draft a notice of appeal to support our client's position in a matter with $700,000 in tax in dispute.
Q52: Can I be involved in Counter's social media presence and things like BNL and CTI?
Yes. Please.
Q53: Is there a chance for me to work with CounterMeasure?
We just deployed CounterMeasure 1.3 in every Tax Court appeal. If you work on Counter's Legal Team, you work with CounterMeasure.
Q54: What do I do if I feel like I'm not receiving the training I need?
You meet with Yoni. If any issues are not resolved, you can meet with Peter and Yoni. Also, you are welcome to ask any other team member to attend to help facilitate.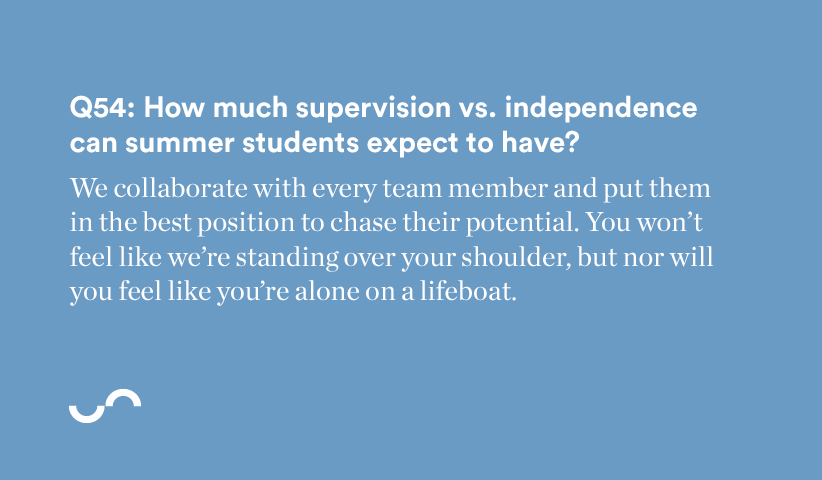 Q55: How much supervision vs. independence can summer students expect to have?
We collaborate with every team member and put them in the best position to chase their potential. You won't feel like we're standing over your shoulder, but nor will you feel like you're alone on a lifeboat.
Q56: What kind of writing does Counter do with Thomson Reuters and do students have input on what kind of articles they pursue?
Counter is publishing five chapters in the Thomson Reuters Tax Disputes & Resolution Centre, available through the TaxNet Pro™ research service. The chapters are on corporate residence, judicial review, tax settlements, tax shelters, and civil tax penalties. We also have a (lengthy) list of other writing and presentation topics and ideas that we intend to pursue someday. Students can choose from the list of yet-to-be-written chapters or persuade us that another topic would deliver more value.
Q57: Do summer students get a chance to work with clients or sit in on client meetings?
Yes.
Q58: What's your firm's hireback history?
We started hiring 2Ls in the past two years. We offered one 2L student an articling position. We did not offer the other 2L student an articling position. The CounterOffer dictates that we guarantee your articling position so, if you qualify, it's safe to say you have that one in the bag.
Q59: Would I be part of a group of students, and if so, how does your firm maintain a collaborative mentality rather than a competitive one?
We hope to offer a 2L student a position. However, if we uncover two outstanding candidates, we may hire two 2L students.
We do not tolerate toxic behaviour or a dysfunctional environment. We identify it, openly discuss it, and move forward. We reinforce and evaluate positive behaviours in our performance evaluations.
Q60: What's the benefit of articling within a specialised practice rather than rotating through a full-service firm?
Tax and litigation are hard and require complete devotion. We believe that working in a specialised practice is the best way to develop expertise.
Q61: How much do you pay people?
We pay 2Ls and articling students $70,000 per annum.
Q62: Do you provide the requisite technology you expect me to use (BlackBerry, laptop, etc.)?
We provide laptops to articling students. We do not provide smartphones.
Q63: Do you have requirements for what courses I take in my second/third year?
Yes, tax courses. Writing courses wouldn't go amiss.
Q64: What are my chances of getting hired back?
We hope team members start and finish their careers with us. The hire-back probability is based on your attitude, values, and performance. We will mentor, coach, and take every reasonable action to give you the opportunity to succeed and be a long-term member of our team.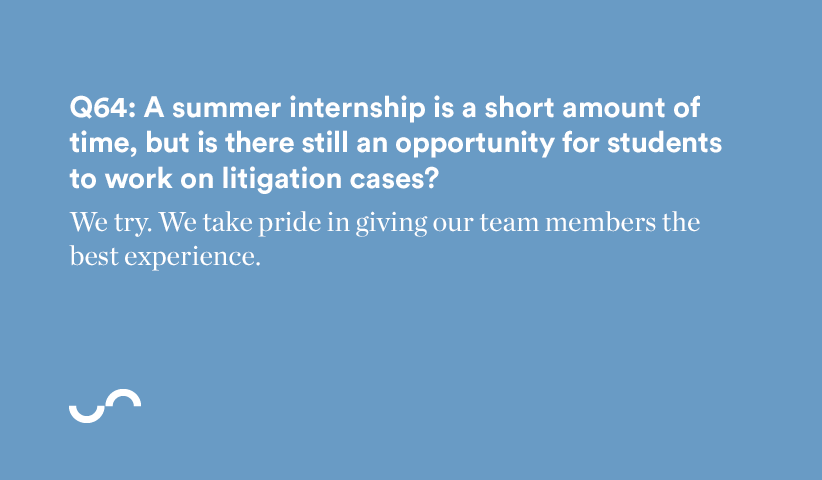 Q65: A summer internship is a short amount of time, but is there still an opportunity for students to work on litigation cases?
We try. We take pride in giving our team members the best experience.
Q66: Do you have flexible hours or more stringent requirements?
Generally speaking, students are expected to work in the office four days every week and one day remotely. We believe that in-office exposure is essential to early-stage career development. We want to immerse students in our culture and work.
Q67: Can you suggest anything that I can do at law school this year to proactively prepare myself for a smooth transition to summer student work at Counter and enhance my contribution to the firm?
Learn everything you can about Counter. We will encourage you to visit and study at our Toronto office during the school year. This way, you can integrate with the team as quickly as possible. If you are really keen, you can write an article with a team member or work with us in some other way (as long as it doesn't interfere with your studies – we prefer you to be smart and educated).
Q68: Do you offer any signing incentives or payment toward the bar exam, robes, etc.?
Yes, CounterOffer.
Q69: What is your technology / how does your technology (e.g., CounterMeasure) change what you do day to day?
Our technology puts us in a position to focus on high-level work and conduct deeper analysis. We do not doubt that our tools lead to accelerated growth and development.
Q70: Can I build my own book of business and personal reputation while I work for Counter?
Yes.
Q71: How does Counter attract and retain clients in the large Toronto market?
We do quality work, and we build relationships.
Load more text
See less text